Danno began his love of the visual arts at a very early age. Danno received his first camera and started taking still pictures at the age of 12.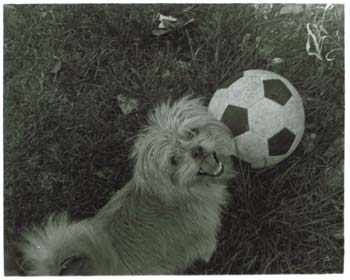 TESS the Dog
One of Danno's first picture in 1986, this photograph was shot, developed, and printed by Danno at the age of 12 while in 7th grade at Midvale Middle School (Utah).
His love of visual composition and style developed strongly during his years in middle school and as a High School Yearbook Photographer.
Danno was able to develop a working knowledge of B&W and Color photography in his teens, a skill which has carried over to motion picture photography.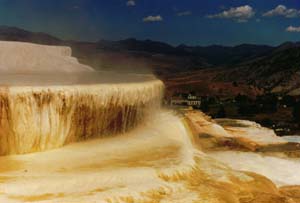 Yellowstone National Park - 1986
In 1996, with no formal training, he began writing a screenplay after reading a short screenplay written by a friend.
He spent the next several year honing his skills as a writer before his first big break in 1999.
He sold* ascreenplay "The 2000 Stripling Warriors" in 1999 to Dreamland Productions, a film which he also directed in Kaysville, Utah in June of 1999.
Over the next 4 years Danno worked in virtually every facet of the film industry including: Writing, Directing, Cinematography and Producing. Like many other independent filmmakers, Danno has worked most positions on a production crew like: Key Grip, Lighting Director, Boom Operator, Sound Engineer, etc.
Since his Directorial debut, Danno has written 9 feature length screenplay, 4 short screenplays, several Commercial scripts (i.e. 30 & 60 second commercials), and a teleplay for a #1 hit series.
He has also worked in virtually every facet of the film industry. Since 1999 he has worked as a producer, Director of Photography, Lighting Director, Gaffer, Grip, Sound Engineer, Boom Operator, and has even developed a television series.
As of June 2007, Nell is currently working on "Point 08", a full length feature Documentary, while finishing a feature length film script re-write.